About Savor Greece
Savor Greece is a series of video episodes that brings the beauty of Greece to your screen. Learn about the Greek countryside, cities, islands, villages, mountains, and beaches. Savor Greece focuses on traditional Greek cuisine cooked by real Greeks, their music and dances, festivals and customs! A new episode will be published every second Sunday starting on October 3rd 2021 (the first season contains 22 episodes). Savor Greece is a private initiative as well as being self-funded. All participants volunteered and no money was charged for promotions or advertising.
I will be forever grateful to the wonderful hospitality I received during the filming of Savor Greece. Many of the incredible places I visited offered me free accommodation and more importantly amazing food, what an adventure! Please follow my channel, subscribe and share, and make sure to leave a comment to help me bring you better viewing in the future.
Many thanks
Tony Kavalieros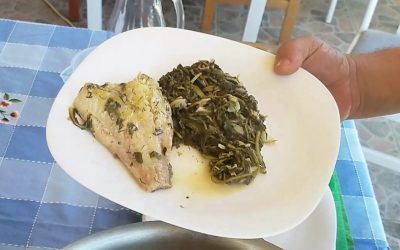 Provatsa is a wild green you find in the winter in Naxos island as well as other Greek islands. Usually next to the sea shores and is the base of a beautiful flower. It is collected in the winter and thus the reason is best cooked with Bakaliaro (salted cod fish) when...