This culinary tour aims to offer you unique experiences, value and skills by introducing you to Greek cooking, the production of delightful products, the sacramental breeze from the surrounding nature, to local people while listening to their stories and tasting old traditional dishes. This will make you feel like a local and place a piece of Greece in your heart.
Duration: 11 Days/10 Nights-Available all year
Suggested dates: 01/09/22-11/09/22
Country: Greece
Locations: Athens, Peloponnisos… Nafplio, Mycenae, Epidaurus, Nemea, Sparta, Mystras, Kalamata, Kardamili.
Availability: Minimum of 6 participants –Maximum of 14
Included in the offer:
Accommodation (Double room sharing) at 4stars hotels and boutique traditional guesthouses. Single accommodation is available at extra cost.
Land Transportation with luxury mini bus and a professional driver
All meals are included: breakfast, lunch, dinner and picnic. Local wines, soft drinks and water. 
Cooking: 2 hands on cooking classes
Historical Guided tours: 4 in total (Athens, Mycenae, Epidaurus, Mystras)
Food and Wine tastings: 10 visits
Tour Guides: 3
Detailed itinerary below. For price inquiry please email Chef Tony at: chefkavalier@hotmail.com
Excluded:
Your return travel tickets to Greece from the country of your arrival,
Travel and medical insurance.
Personal charges such as hard liquor, laundry, telephone charges, room service, tv on demand, mini-bar, souvenirs.
Private excursions not mentioned in the itinerary
Gratuities to the hotel personal or tour operators at your discretion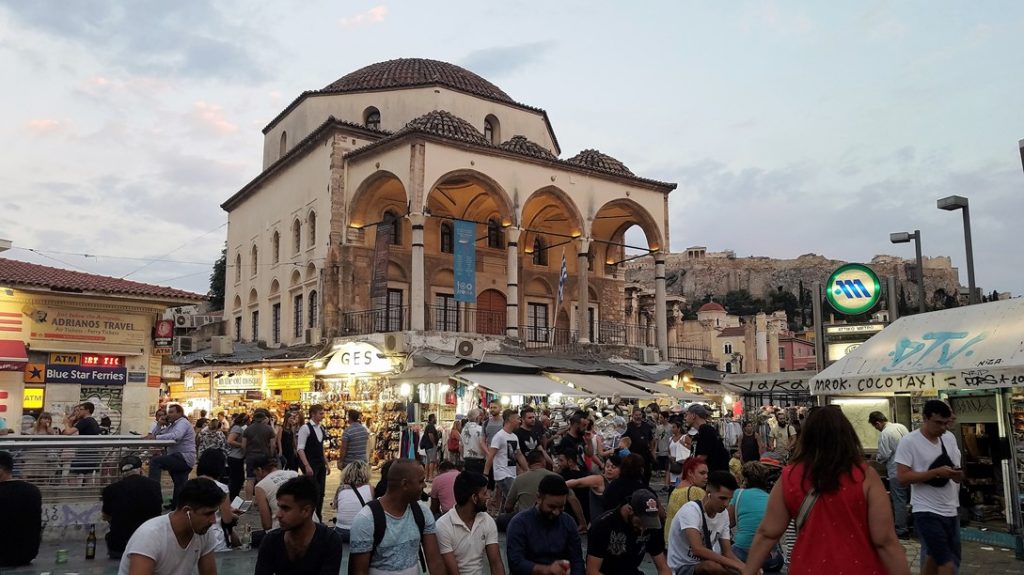 HIGHLIGHTS
Take a journey back in time with this culinary trip to Greece. Visit classical Athens; walk up the Parthenon and its new museum, explored mythical paths filled with history, charm and beauty.
Visit old kingdoms and sunken civilizations. Learn secrets of the Greek cuisine, based on seasonality, simplicity, regionalism and healthfulness .Get exposed to the country's raw ingredients, cultivated in perfect Greek climate, full of integrity and flavors highlighted within the traditional Greek cuisine and highly seasonal cooking with its ancient roots, as, Greek olive oil, Greek olives cured and flavored in much the same way over the ages, Greek honey, wild foods, herbs, shoots, buds, countless wild greens, ancient legumes, such as the fava bean, split pea, chick pea and lentil, fish and seafood, snails, nuts, sesame seeds, whole grains, goat's and sheep's milk cheeses (to mention few ingredients of the Greek table).
Stay 2 nights in Athens and 8 in the most amazing places of the Peloponnese including the beautiful seaport town of Nafplio, situated on the Argolic Gulf in northeast Peloponnese, the first historical capital of the new established Hellenic state, considered to be one the country's prettiest towns.
This culinary tour aims to offer you unique experiences, value and skills by introducing you to Greek cooking, the production of delightful products, the sacramental breeze from the surrounding nature, to local people while listening to their stories and tasting old traditional dishes. This will make you feel like a local and place a piece of Greece in your heart.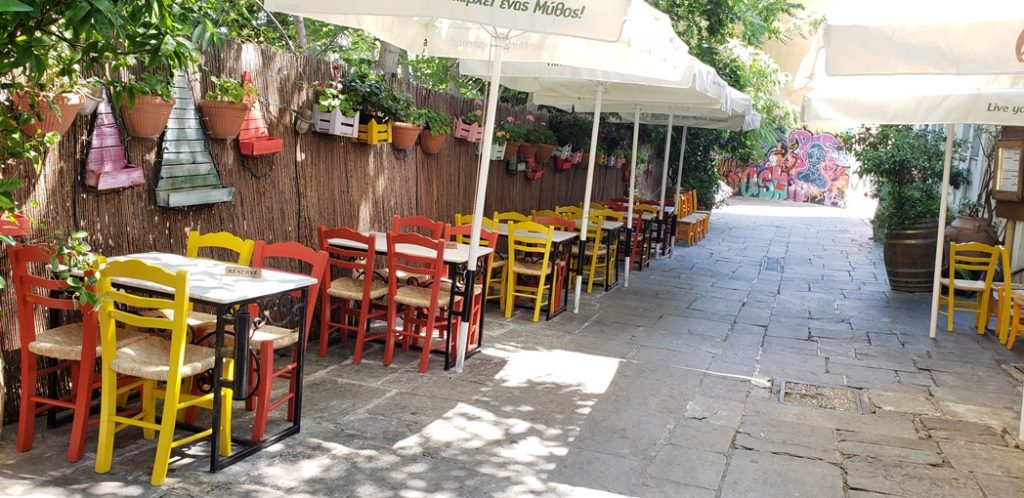 Day 1 / Athens
Athens by night
All parties arrive in Athens; our trip assistant will be waiting for you at the airport. Transfer to your hotel. Meet up in the evening for a guided walk through the city, where fantastic images await you around every corner. Dinner at a traditional Greek tavern in the historic neighborhood of Plaka. First Night in Athens.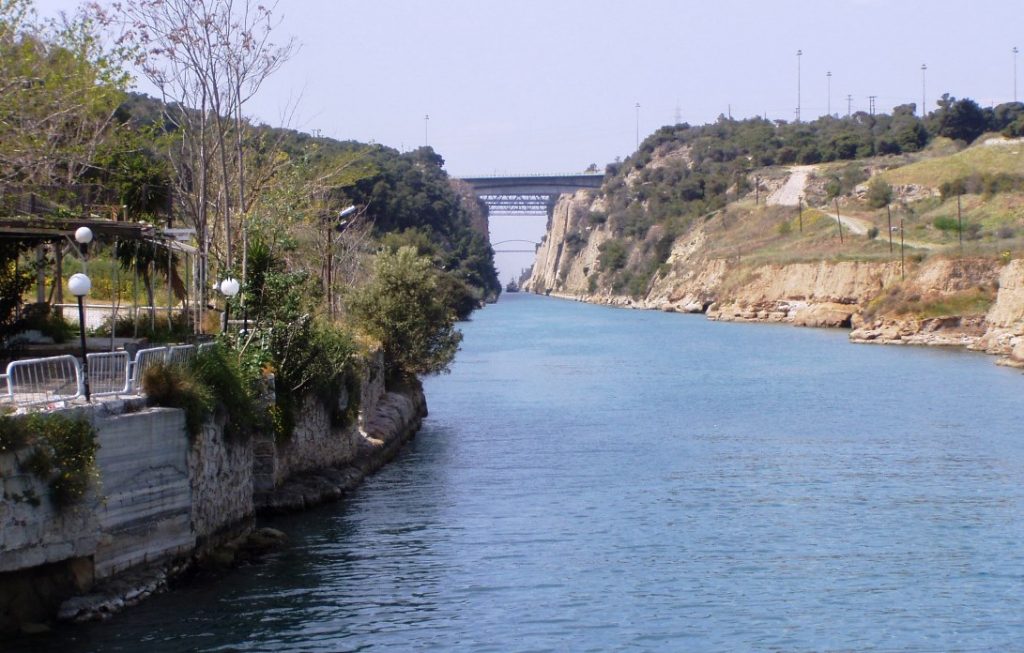 Day 2 / Isthmos-Hermione-Land of Purple
After breakfast we will drive you to an little fish village called Hermione with a sort stop on the way to see the impressive, Corinth Canal which connects the Gulf of Corinth with the Saronic Gulf in the Aegean Sea. It is unquestionably the sea "umbilical cord" between Western and Eastern Mediterranean. We will then drive on the majestic coastline full of pine trees and the endless blue of the sea! Arriving in the ancient port of Corinth we will see where beautiful Ellen took her baths in antiquity. There are still ruins of the baths and walls, witnessing the existence of ancient healing bath waters.
We will enjoy our coffee and snack to a popular coffee shop for a sort break, where locals hang out to enjoy the panoramic sea view of the Argosaronic gulf near Epidaurus.
Continuing our trip until we reach a family business apiary. There are 100 acres of land waiting for you to see the bee-hives, herbs & trees, the honey museum, and to taste the unique flavors of honey and other local specialties.
After honey tasting there is the option of visiting an Impressive cave that dates back to Paleolithic era, 35.000 years old with a small 30 minute walk to reach it. Weather permitted next to cave there is a beautiful beach for a swim!
Time for lunch!!! Fresh fish at the picturesque port of Hermione.
Next we will drive you to Nafplio where your cozy room awaits you to spend the next 3 nights to the first capital of Greece, full of culinary adventures!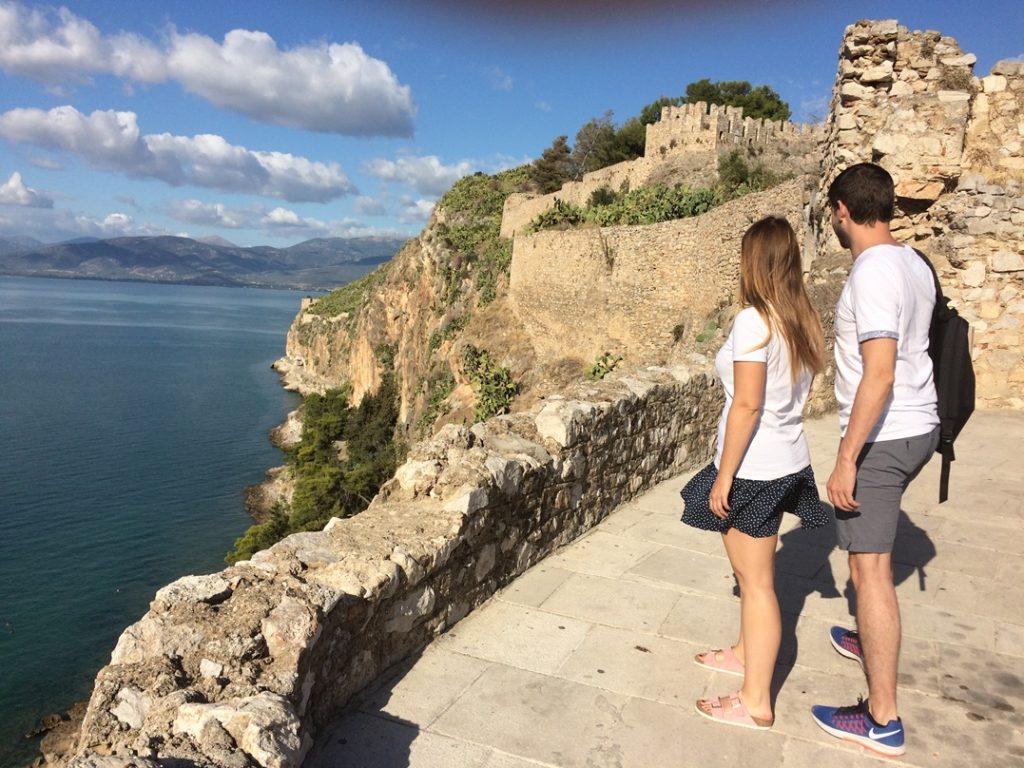 Day 3 / Nafplio –Mycenae/ World Heritages of Unesco
After breakfast, we will visit , Mycenae. One of the World Heritages of Unesco, homeland of king Agamemnon when he returned as a winner from the Troyar war. Your guided archaeological and historical tour will start at the vaulted tomb, known as the "Treasury of Atreus", one of the most impressive works of Mycenaean burial architecture. Continue to the Lion Gate, visit Grave Circle A, the "Megaron": the Palace of the Mycenaean kings and the Museum. After about one and a half hours wandering in this unique ancient land, it's time to enjoy an outdoor picnic organized with local goodies in nature next to a picturesque church, fountain and plain trees.
Our next stop is the romantic Nafplio city. We will enjoy a short walk in the old town of Nafplio under the historic walls of the city. Weather permitted you can enjoy a swim to the beautiful nearby beach of Nafplio.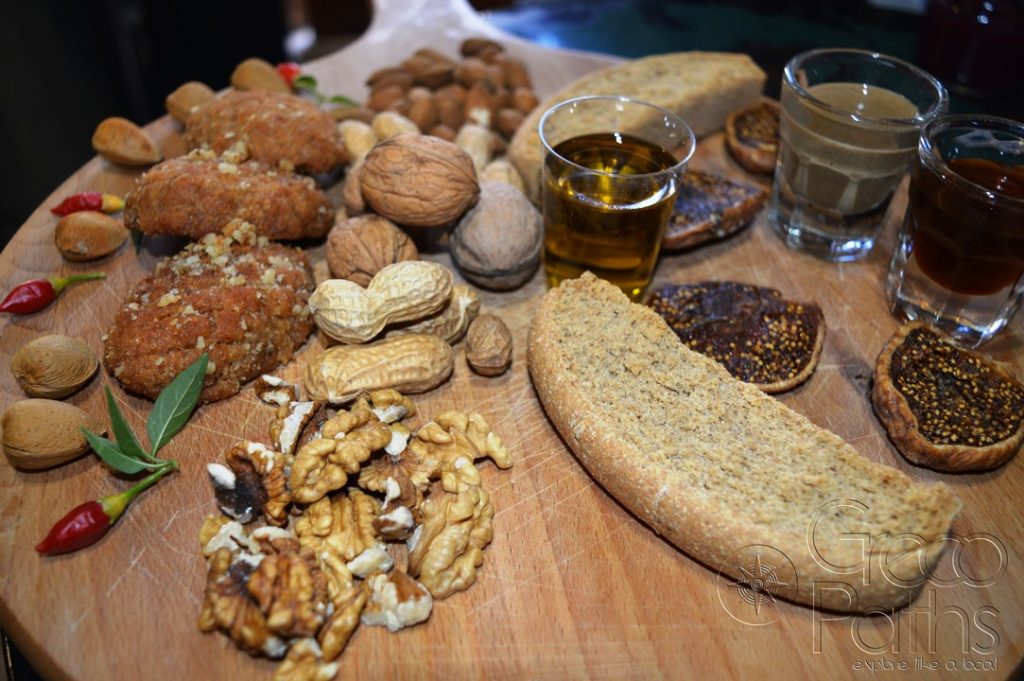 Next 3 tasting stops to taste several local specialties such as handmade pies, traditional sweets, and handmade ice cream with more than 20 different flavors.
Take a stroll through the old markets and discover every hidden corner of the old city of Nafplio.
Some rest time back at the hotel before gathering for dinner at a traditional family tavern.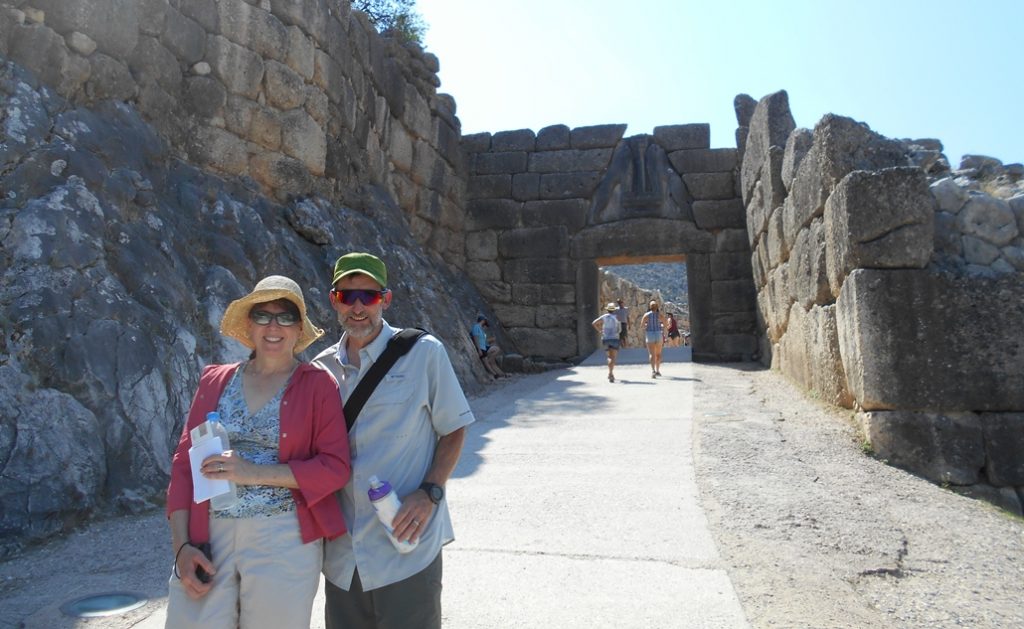 Day 4 / Epidauros – First healing center in the world
Olive oil and cheese tasting/ Dinner at a local home
After breakfast, we will visit Epidauros, one of the most famous centers of the ancient world and its UNESCO world heritage Theatre. Guided archaeological and historical tour of the Temple of Asclepius, the Abaton, the Tholos (dome) with its puzzling function, the Stadium, the Ceremonial Banqueting hall, the Katagogion, the Museum and the Theatre, enjoying its magnificent acoustics. After Epidaurus we will take a 2 km walk, in a preserved ancient path through pine trees and a small stream to enjoy the nature.
We will visit a family business, which produces olive oil. A perfect chance to see the making of olive oil and taste the juice of the miracle fruit, the olive, together with a small buffet.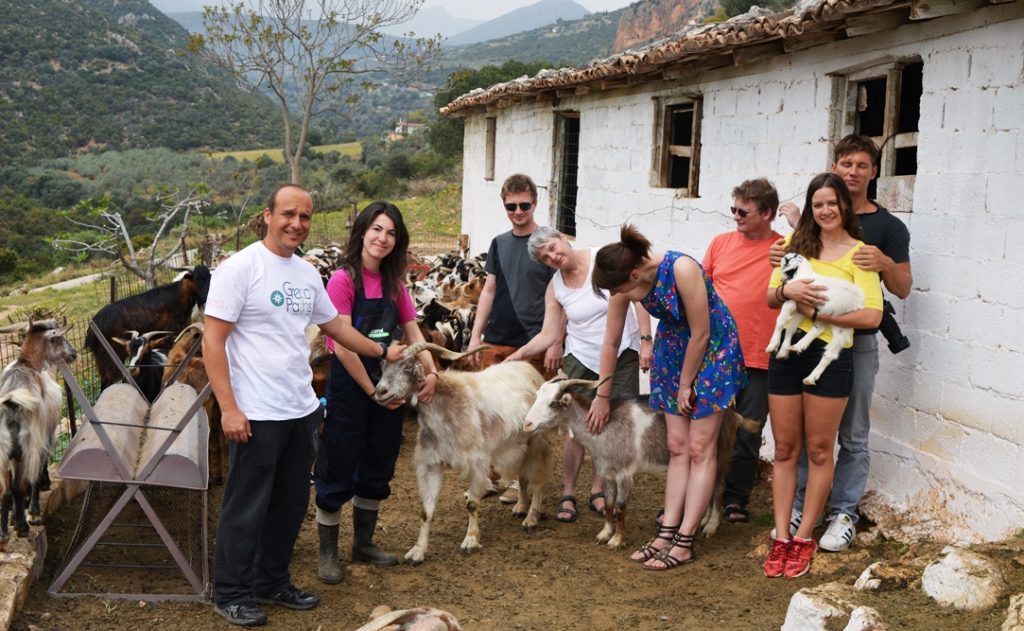 Next on it is cheese time! We will visit a local family operated creamery that produces local cheeses from goat and sheep milk. A guided tour will demonstrate the procedure of cheese making.
Time for visiting a local's house and eat like a local!
Dinner will be prepared at the home of a lovely family who are farmers and the housewife still making clothes on their wooden loom! The perfect way to close the day hearing the stories of the hosts and of course eating at the same table with them!
Back to Nafplio with free leisure time until next morning.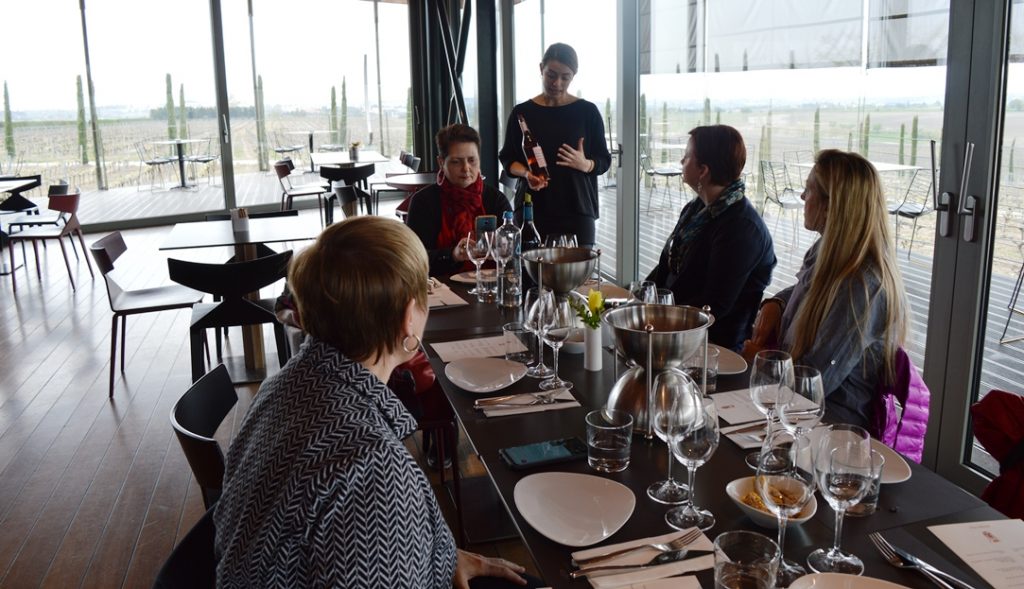 Day 5/ Nemea, the land of God Dionysus & Hercules.
Wine tasting in 4 different wineries
Nemea, is the largest wine growing area of Greece, famous for its wine since ancient times. It has more than 40 wineries!! Land for the wine lovers. We have chosen the best for you!
It's the birth land of God Dionysus and the place where mythical Hercules killed the lion of Nemean.
Four different wineries, each one represents a different category, geographical location-altitude-varieties of wines, one is a family small winery and the rest of medium to big size. Each one has their own story to tell and their finest wines to share!
At the last winery we will prepare for you a tasty homemade lunch, the perfect combination to our wine!
Before we return we will pass through the magical place of the temple of Zeus, where the revival of the Nemean games are held every 4 years.
A 40min drive will take us back to Nafplio to spend the evening it as you like.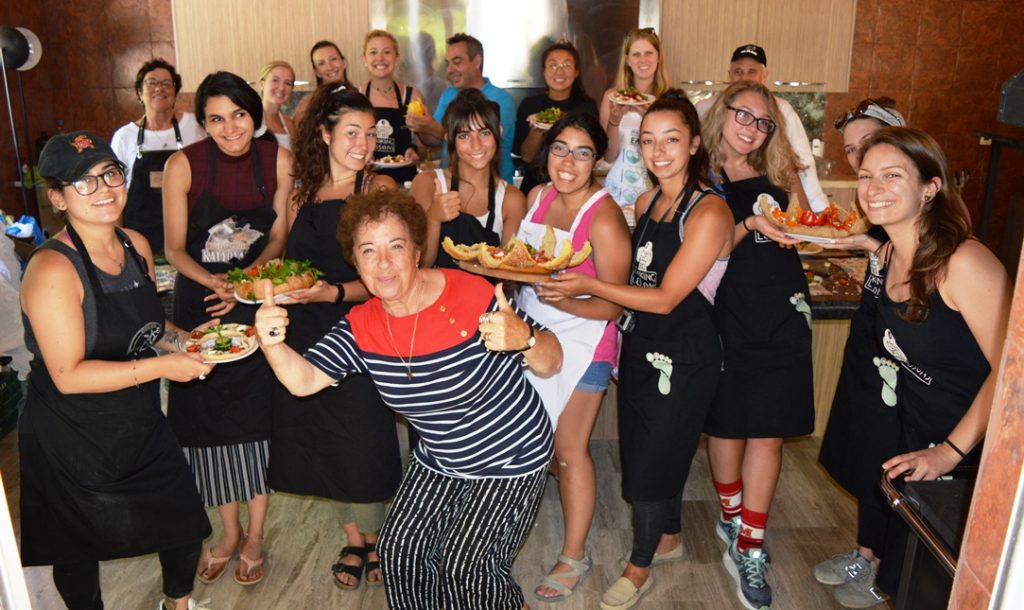 Day 6/ Zero km- Alive therapeutic water/Organic local-fresh food

Cooking class and enjoy nature
Where? In a traditional restaurant at the altitude of 700 meters, at a village of 24 residents, just 40 minutes' drive from Nafplio.
In this ancient place the river God was born from the Gods of Ocean and Tithis Inachos. This is where the history and mythology of Peloponnese starts. In antiquity this place it was the temple of purification for men. In this small piece of paradise we have chosen to spend our day, and let us assure you, this will be a one in a lifetime experience to remember.
As you enter the village an introduction will be given to you from our tour guide, about the history of the village and the Bio restaurant. You will drink the "alive" cool water directly from the spring and then your 1st hands on for cooking class with our 2 chefs and a local housewife. You will learn to make fresh cheese and other traditional seasonal Greek dishes.
Awhile your food is been baked we will have time to explore the village in a nice easy walk through nature. Rich vegetation, old watermills, water stream, small waterfalls, traditional homes and some locals to greet on the way!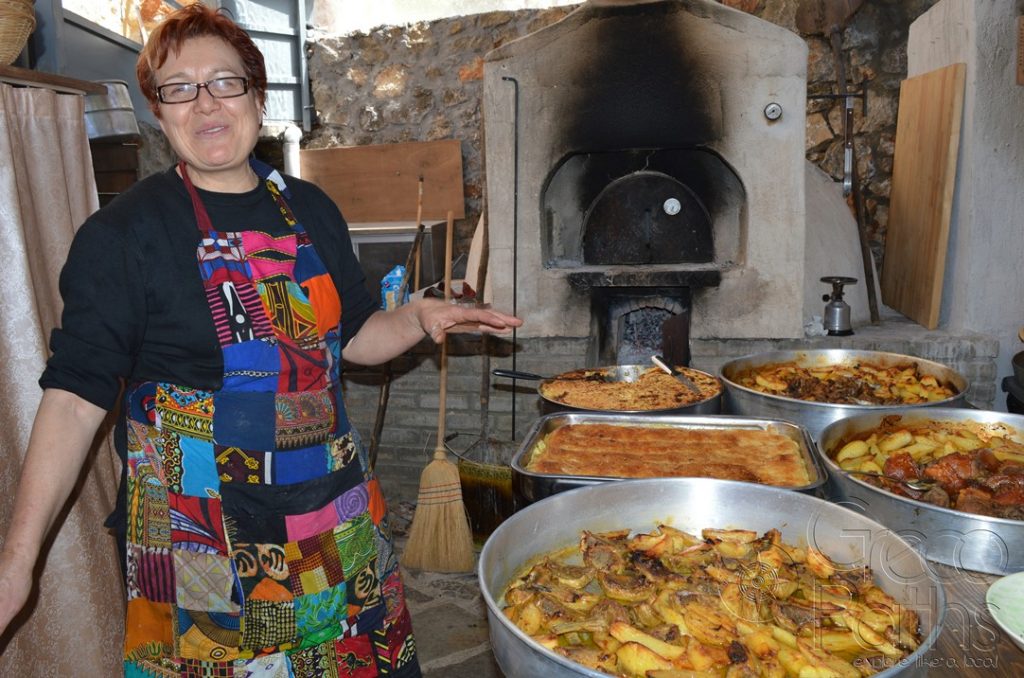 Lunch will be held under the shade of a century old plain tree.
During lunch we are going to play ancient games like Ancient Greeks use to play with their symposiums. Directions will be given to you.
After lunch a visit the local folklore museum to learn about the daily life of the locals from 150 years ago. We will see their traditional clothes, coins, weapons, looms, and everyday tools.
Greek coffee and dessert before heading back to Nafplio.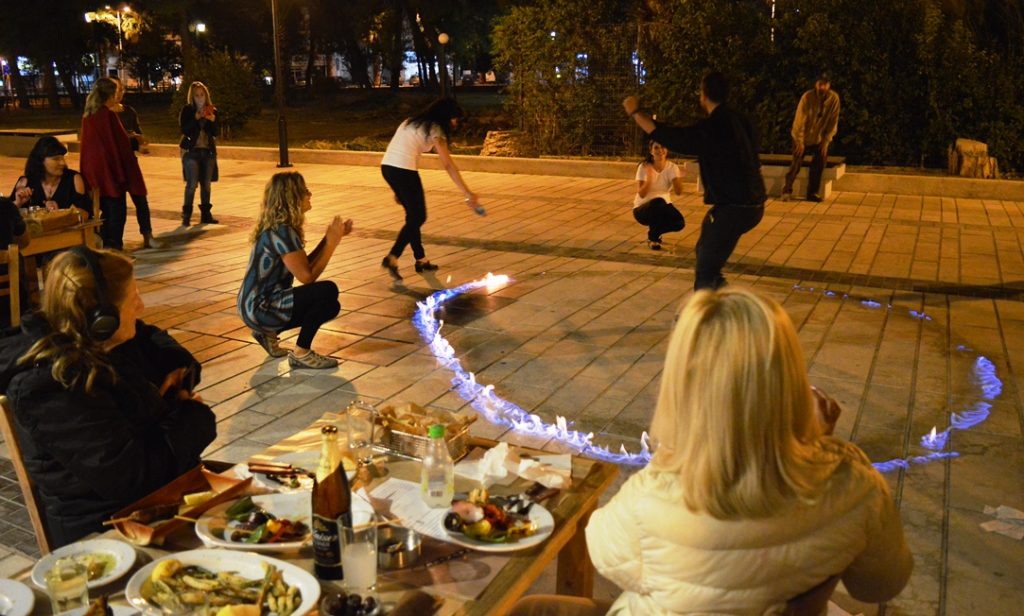 Some rest and then dinner time and a Greco dance night! Five professional dancers will display some famous Greek dances and teach you the basic steps of these dances awhile dancing with them!
Last night in Nafplio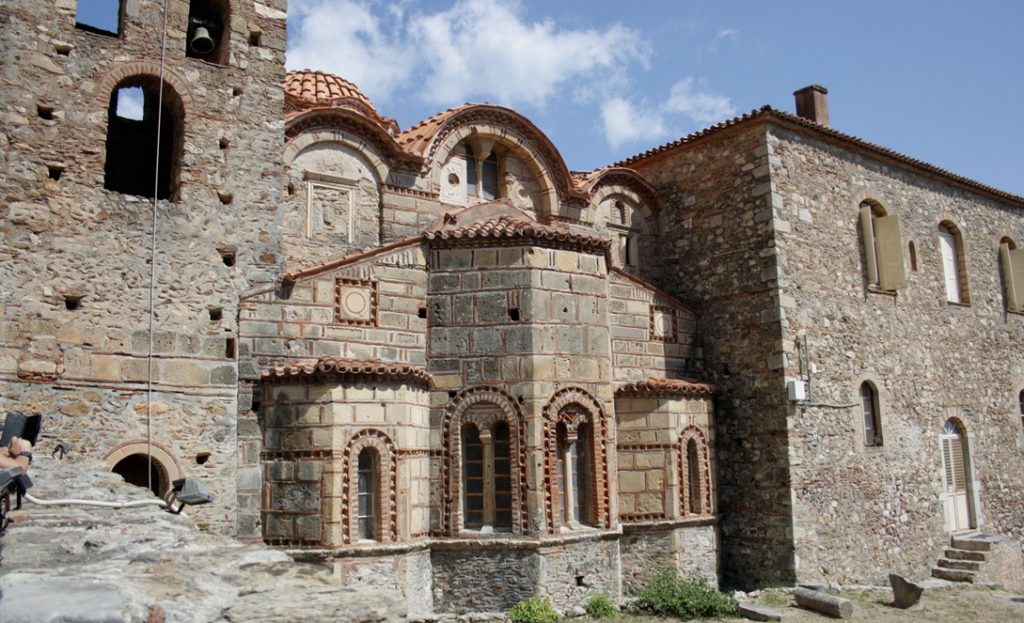 Day 7 / Sparta-Mistras
Early wake up and after breakfast, we will be driven south of Peloponnese to the famous city of Sparta.(about 2 hours' drive)
Discover Sparta, full of history, surrounded by mounts Taýgetos and Párnon. Sparta was the kingdom of Menelaus and his beautiful queen, the most beautiful of all mortal women of her time, Helen. Aphrodite had promised Paris of Troy this beautiful woman in return of a favor, so the Trojan prince came to Sparta to claim his trophy. He abducted Helen and travelled back to his homeland. Menelaus wanted his wife back and so he talked to all the other kings of Greece into a war against the Trojans. That's pretty much of how the most celebrated war of the mythology started.
The tour will start with a short introduction about the history of this town in front of the few remains that they are left from the ancient city of Sparta.
The best local licensed guide, an enthusiastic and creative character will take you through the glory and great history of this ancient land.
The tour continues… imagine you are the knight or princess of your childhood fairytales, in the Byzantine town of Mystras! Visit the mystical tower town of Mystras and let yourself be captivated by this destination's medieval splendor. Wander around the castle city and feel the spirits and souls of the people that lived here.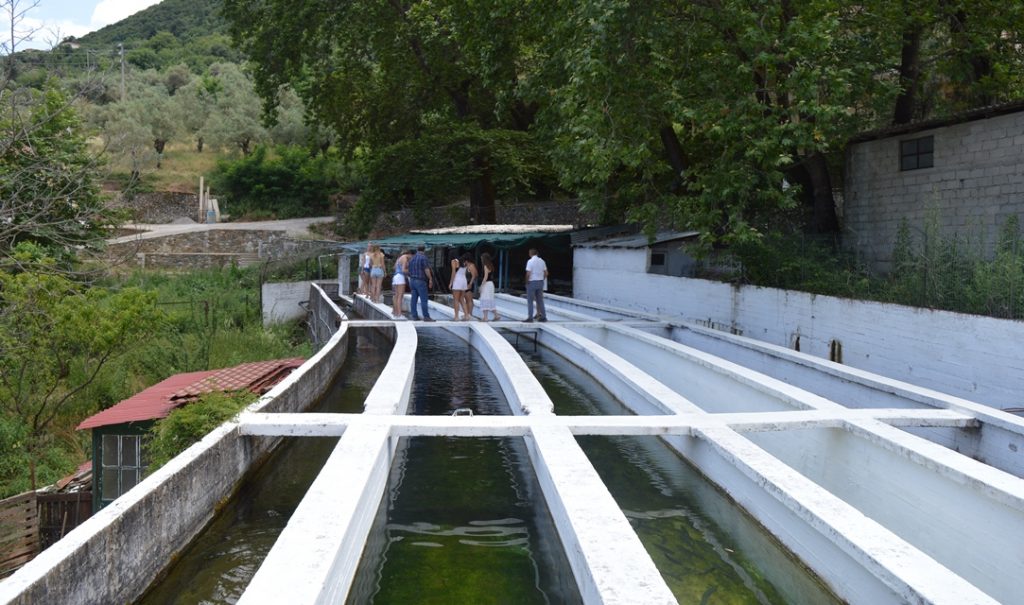 Next we will be driven to a fish farm, up in the mountains! Yes you read it correctly, a family fish farm with spring waters, Sturgeons fish, trout and many other smoked products. 17 different products have been awarded for their excellent quality. All these make this family and their 50 years of experience a must visit. A taste of their products will be available.
Time for lunch, in one of the oldest and best taverns of Sparta. Whatever products you didn't taste at the fish farm you will find them in the menu of this tavern. Smoked trout served with fava, caper and caramelized onions! Just yummy!-Nostimo-tasty in Greek (A word that you should learn J)
After lunch we will check in and relax to our cozy traditional guest house.
We will meet again at dinner time in one of the best panoramic view restaurants of the area.
Spend the night in Mystras
DAY 8/ Kalamata-Cooking class-olive oil
Check out after breakfast and drive to Kalamata (2 hours' drive)
Arrival at the suburbs of Kalamata, the heart of Messinian olive groves. An area that has 50 million olive trees!
Today you are going to meet a family who are farmers and producers of extra virgin olive oil and superb olives. The family will welcomes you to their farm we will take walk through their olive trees and enjoy a guided tour to their farm.
Put your aprons on, time to cook together a local surprise specialty dish!
Awhile the food is in the oven, we can walk and explore the nearby village and its olive mill cooperation or just relax with a glass of wine and a chat under the trees.
When lunch is ready we are going to enjoy it outdoor, in their beautiful garden.
A handmade gift made especially for you.
Check in to your hotel, down town Kalamata.
Evening time exploring local shops and having coffee in the beautiful old town of Kalamata, before our dinner in a lovely traditional restaurant.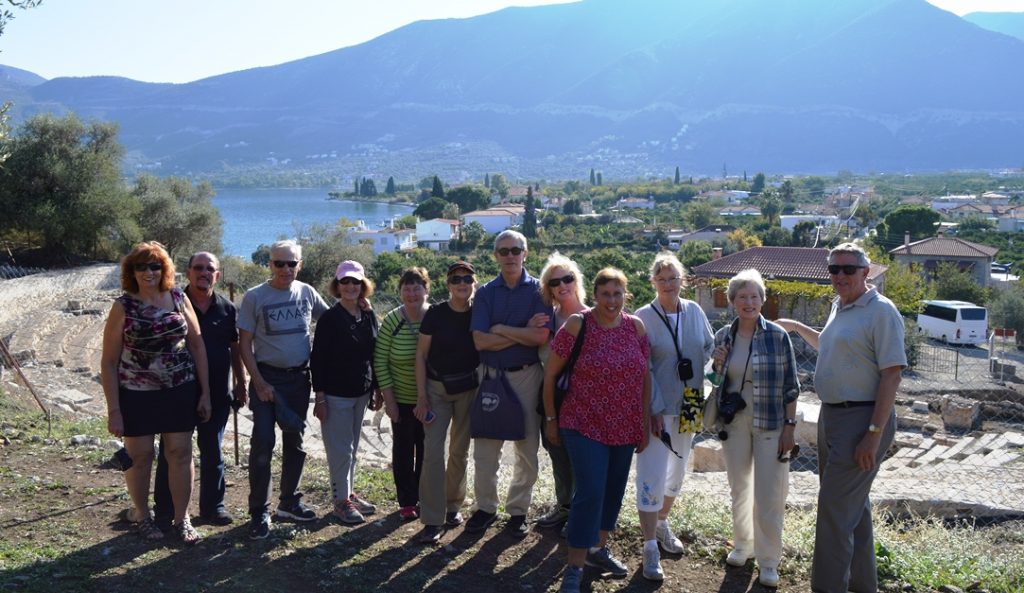 Day 9/ Kardamili-Stoupa
After breakfast time to lose some calories! What about a walking hike?
We have chosen one of the best routes to enjoy nature and panoramic views.
It is a walking tour through beautiful nature, with historical interest near to Kalamata. The distance is 7 Km and the route is easy to medium level of difficulty:
Kardamili – Saint Sofia – Gorge of Viros. You have the choice to go for a swim if you are not the adventures type!!
Hot spots: Byzantine churches, graves of Dioskouri, Kastroa, Polidefki sons of Zeus, the famous tower of Mourtzinon, old elaborate fountain the view of the 'pyramid' (the peak of Taygetos mountain 2407m), gorge of Viros.
After the walking hike, time to eat fresh fish in the famous beach where Hatzithaki was inspired and wrote the famous Zorba the Greek with Antony Quinn!
After lunch to this unique picturesque gulf-beach, its time to rest. Back to our hotel and we will meet later again for the last dinner of this program, with a professional dance team of 4 in their traditional costumes. They will dance for you and teach you to dance the famous syrtaki of Zorba-Antony Quinn. What else will you probably asked for?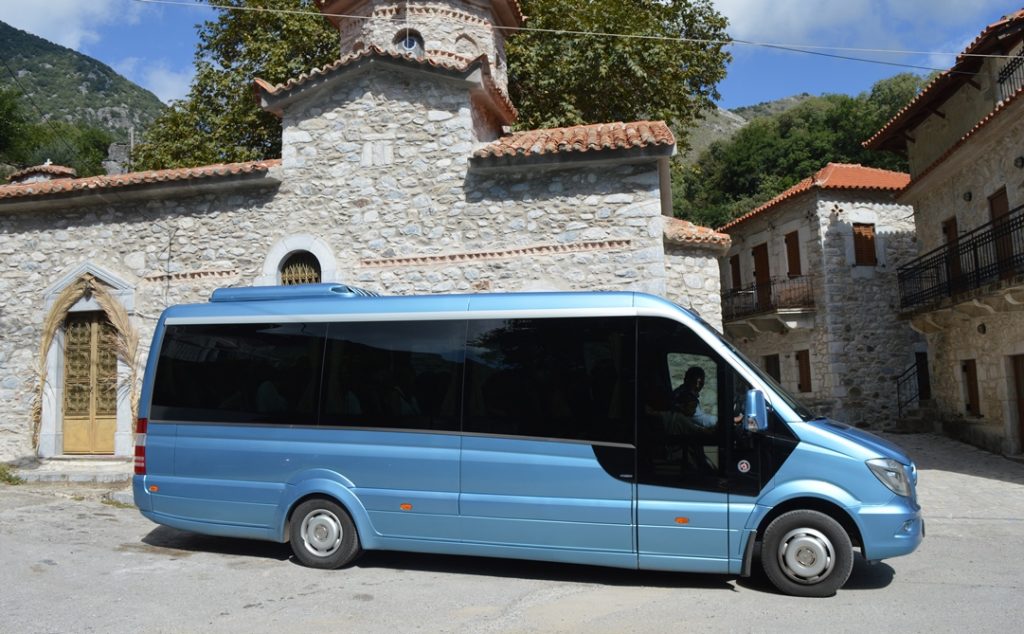 Day 10/ Athens –Departure
Breakfast & check out, transfer to Athens (3 hours' drive). Check in at your hotel and free time to visit Acropolis or do your shopping and spend the evening as you wish.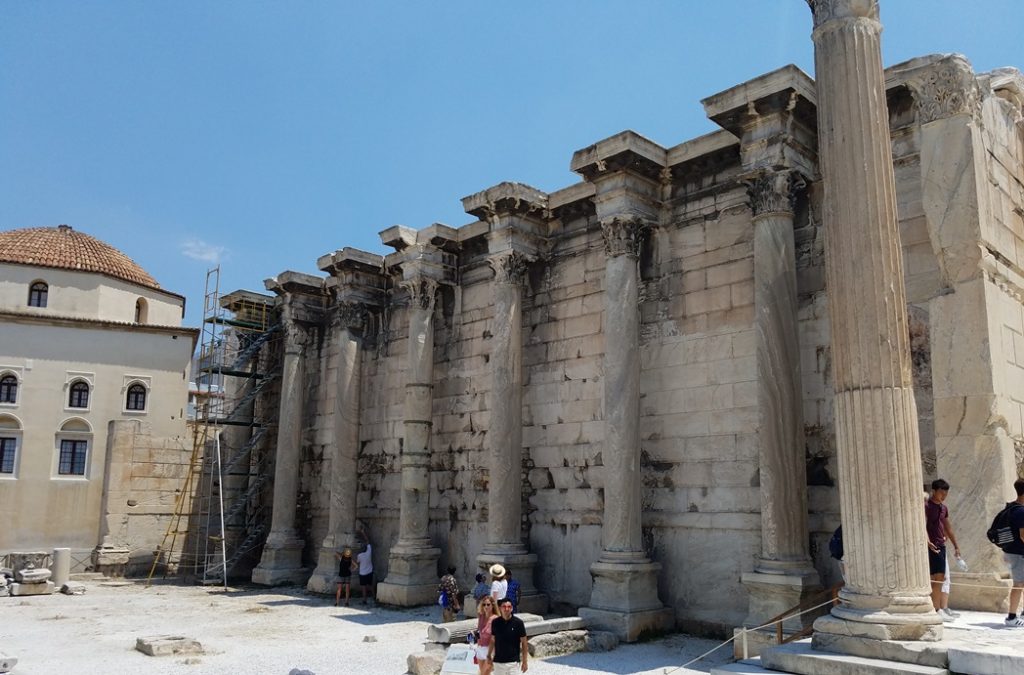 Day 11 / Departures
Early wake up-breakfast and drive you to the airport of Athens
USA connection
Chef Tony Kavalieros (culinary historian), founder of Savor Greece and TheGreekChef.us
For price and method of payments please contact Chef Tony at: chefkavalier@hotmail.com
Greece Experts
Gastronomical Expert
Panagiotis Kokkalas, chef and founder of "Greco Food".
His name has become synonymous with Greek gastronomy and products. He is known for his culinary presentations, agro tourism and entrepreneurship networks aiming to promote Greek gastronomy worldwide.
He is the expert selecting the best culinary experience that Peloponnese has to offer to this tour.
«Our past is our future and there is Greek diet, not Mediterranean»
Historical Paths Expert
Stavroula   Tsirikou,   graduated   in   Business Administration   at   the  University   of   Patras, contributor   to   the   Argolis Chamber of Commerce and Tourism.    Member of the Hellenic Federation of mountaineering & climbing and the Hellenic Rescue team.
"My love, passion and respect for the historical and full of myths place where I was born and raised; make me want to share it with you. The knowledge and feelings you don't share, gets lost''