Christopsomo according to tradition is the bread that women in Greece make in honor of Christ with special care and patience, on Christmas Eve. It is the blessed bread of the Christmas table, and it will represent the life of the master of the house and his family. The shape, form and decoration of this bread are regulated by local customs. Read full history here.
Ingredients
Dry yeast 1tbs
Sugar 1tbs
Salt 1/2tsp
Anise seeds 1tbs (you can buy it here)
Mastic tears 1tsp (you can buy it here)
Greek Honey 4tbs (you can buy it here)
Extra virgin olive oil 1/2cups (you can buy it here)
Water lukewarm 2cups
Bread flour 1kilo (2.2lbs)
Egg 1 (for egg wash)
Dough for garnish
Bread flour 500grms (1.1lb)
Salt 1/2tsp
Extra virgin olive oil 2tbs
Water lukewarm 1cups
Garnish
Walnuts whole
Almonds whole
Cloves whole
Glaze
Honey 1/3cups
Water hot 2tbs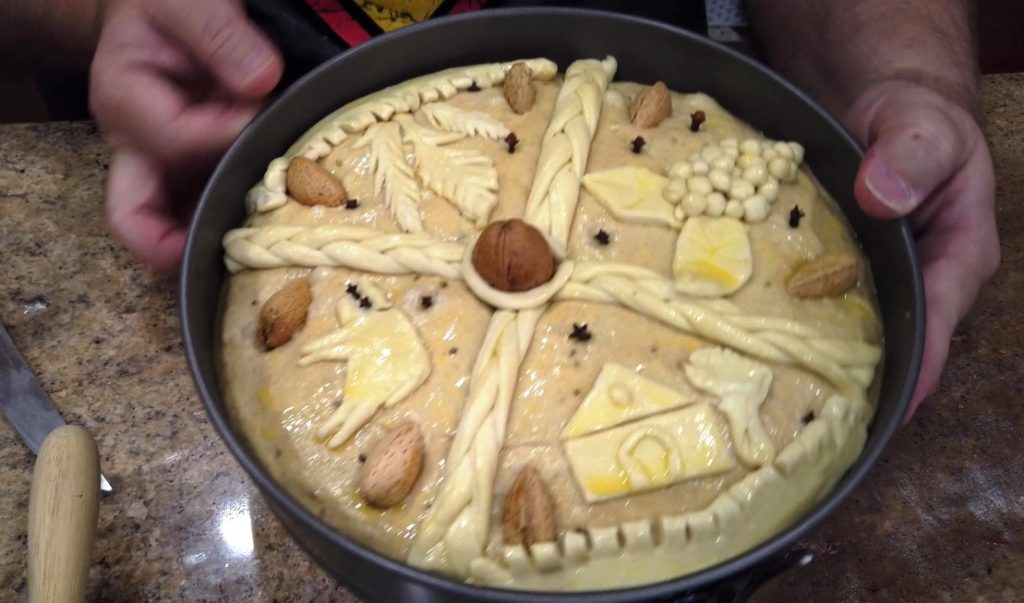 Method:
ACTIVATE THE YEAST: in 1cup lukewarm water, add 1tbs dry yeast and 1tbs sugar. Mix well and allow activating. About 15 minutes
Grind with a pestle and mortar 1tbs mastic with 1tbs sugar (if you don't grind with sugar the mastic will stick together to a gum).
Weigh 1kilo (2.2lbs) of bread flour, sift and add the mastic sugar to it.
In the mixer's bowl fitted with a dough hook, add the activated yeast, the rest of the water, olive oil, honey, cinnamon, salt and anise seeds.
Gradually add the flour on medium speed (setting #4) It should take the whole flour and have about 1/2cup left over.
Take the dough out on a floured surface and knead with your hands for about 5 minutes, shape into a ball.
Smear the dough with olive oil, place it back in the bowl, cover with food wrap, place it in a warm spot and allow rise to double the size. (about 2 hours)
MAKE THE DOUGH FOR GARNISH: in 1cup of lukewarm water add salt, olive oil and bread flour. Knead well to soft non sticky dough, cover with food wrap and let rest.
Fit first risen dough in oiled spring baking pan (23cm – 10inches), cover with food wrap and start making your decoration pieces with the second dough.
Whisk 1 egg with 2tbsp water and brush on the bread dough (egg wash)
Arrange your decoration pieces on the bread and egg wash again when done. Insert whole nuts and cloves.
Bake in preheated oven at 190c (380F) for about 50 minutes. (Check by inserting a wooden skewer in the center of the bread, it should come out dry)
Mix honey and warm water for the glaze and brush the surface of the bread with it as soon as the bread comes out of the oven. Take off the baking pan and place on cooling rack to cool completely. You can wrap it with food wrap for up to 2 days before placing it on the Christmas table, but traditionally it is baked the day before.
Recipe and photos: Chef Tony Kavalieros
Watch the video here