In Greek culture, the practice of cooking food on spits or skewers historically dates back to the Bronze Age. Archaeological findings and writings clearly show that today's souvlaki comes from the ancient Greeks.
Ingredients:
-Pork loin (other parts of pork can be used, pork belly or pork leg… I used 1,2kl ((about 3 pounds)) to make 10 portions)
Sauce for marinating the meat:
-Dijon mustard 1tbs
–Olive oil 1/3cups
-Lemon juice from 1 lemon
-Cumin ground 1tsp
-Smoked paprika 1tsp
Tzatziki: see recipe here
Garnishes:
-Tomatoes
-Onions
-Fresh parsley
–Salt and black pepper mixed 2to1
-Greek oregano
Pitta bread 10 (I used traditional pita-bread Loumidis)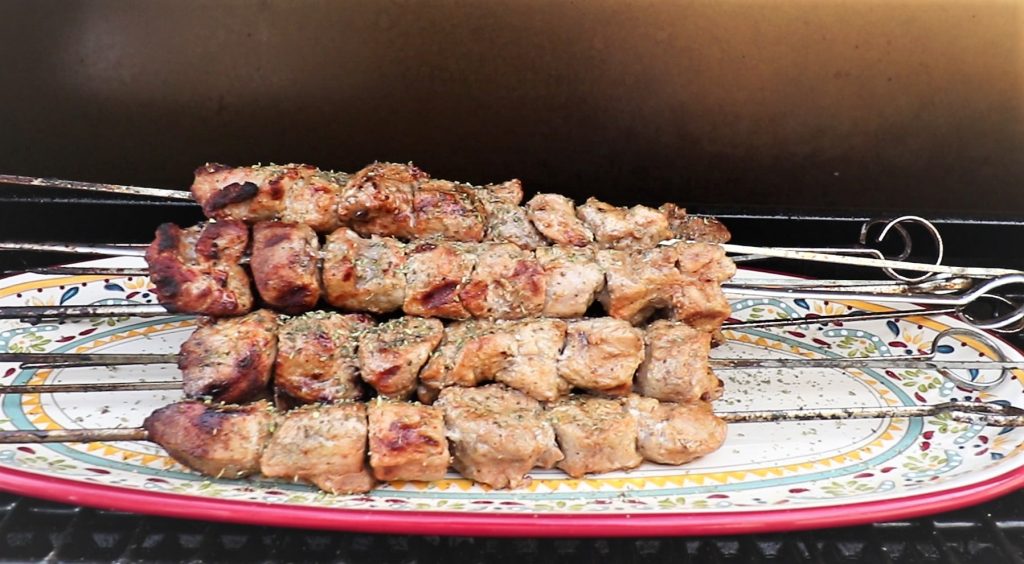 Method:
-Trim pork loin and dice to the size of your liking (preferably just over an inch cube)
-Make the marinate sauce by mixing well all the ingredients, pour over the meat and mix well. Refrigerate for at least an hour. (keep some of the marinate for brushing meat with when grilling)
-Make the tzatziki… recipe here
-Slice the tomatoes as thin as you can and refrigerate
-Cut onions in half and slice very thin, wash them 3 times under cold water and strain. Mix with plenty of freshly chopped parsley and refrigerate.
-Make your souvlakis on metal skewers to the length of the pita-bread (if you use bamboo skewers, immerse them in cold water the day before and freeze for about an hour before you use them to avoid splinters and burning on the grill)
-Add some water in the marinate you kept to dilute it (about 1/3cup)
-Mix salt and pepper for seasoning the meat
-On hot grill cook souvlakis until golden and cooked right through without burning them. With half a lemon, a fork pierced in it as a handle and the diluted marinate keep the meat moist awhile is cooking.
-Season with salt and pepper close to the end of grilling and oregano at the end.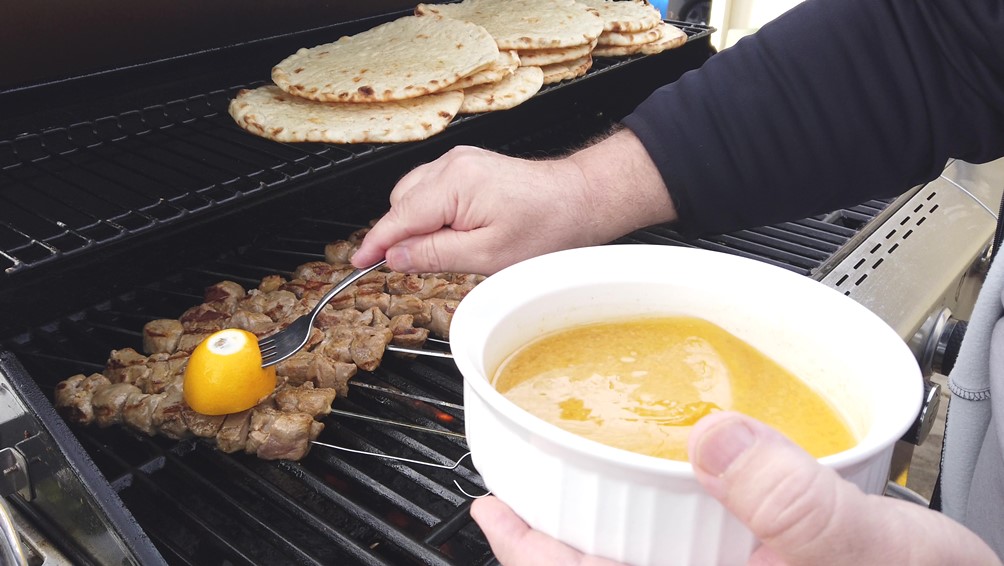 -Brush pita-bread with a little veg oil and warm on grill for a few minutes
-Serve with tzatziki, tomato slices, onion and parsley.
Recipe and photos chef Tony Kavalieros
Watch the video here
Read the history of souvlaki here