Finger licking good, sticky and tasty, spicy and tangy, easy to make Pork Spare Ribs to die for!!!
For 2 whole rib cases you will need to do:
Cut ribs to portions of 2-3 rids each
Place them in a big pot, fill with cold water to cover the ribs, add 1tbsp salt for every 1lt water, 1/2cups white vinegar for every 4lt water and 4-5 bay leaves.
Cover with lid and bring to boil. Reduce heat and simmer with pot open for 45 minutes.
Turn heat of and allow ribs to cool off completely in the water (it took me 4 hours to do so)
Remove ribs from water and drain. If you are going to refrigerate some ribs for later use, do it now. Store them in air tide container or zip-log bags and refrigerate or freeze.
Prepare the BBQ basting sauce. I used 3 cups of Sweet Baby Ray's BBQ sauce (you can use your favorite one), I added 1/3cups Worcestershire sauce, 1/4cups lemon juice and 1tsp chilli powder.
Warm grill (I used smoker grill with hardwood blend pellets for smoke), place ribs on the grill bone down, grill for 6 minutes, turn over and grill for another 6 minutes, baste on both sides with BBQ basting sauce and grill for another 8 minutes on both sides. Repeat the process another 3 times.
Finally and when basting sauce has caramelized, remove from the grill, brush once more with basting sauce, serve and enjoy.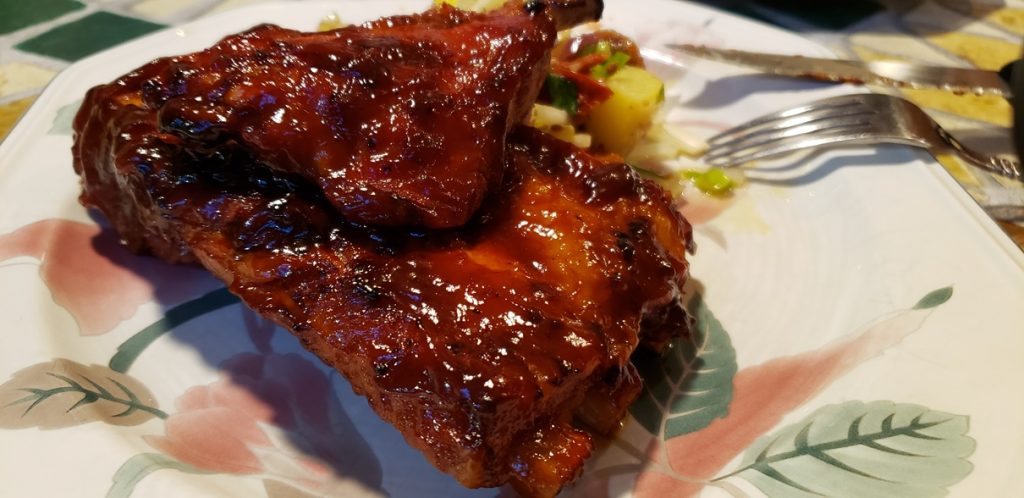 Recipe: Chef Tony Kavalieros
YouTube video at: https://youtu.be/tuVSUbKRaKw