Pizza is everyone's favorite choice of fast and easy food!!! Here is the basic recipe for a pan pizza
Pan pizza (dough recipe)
Ingredients:
Water lukewarm 300ml (10,5oz)
Butter 115grms (1stick)
Sugar 1tbsp
Yeast dry 1tbsp
Bread flour 240gr (8,4oz)
Yellow corn meal 60grms (2oz)
Salt 1tsp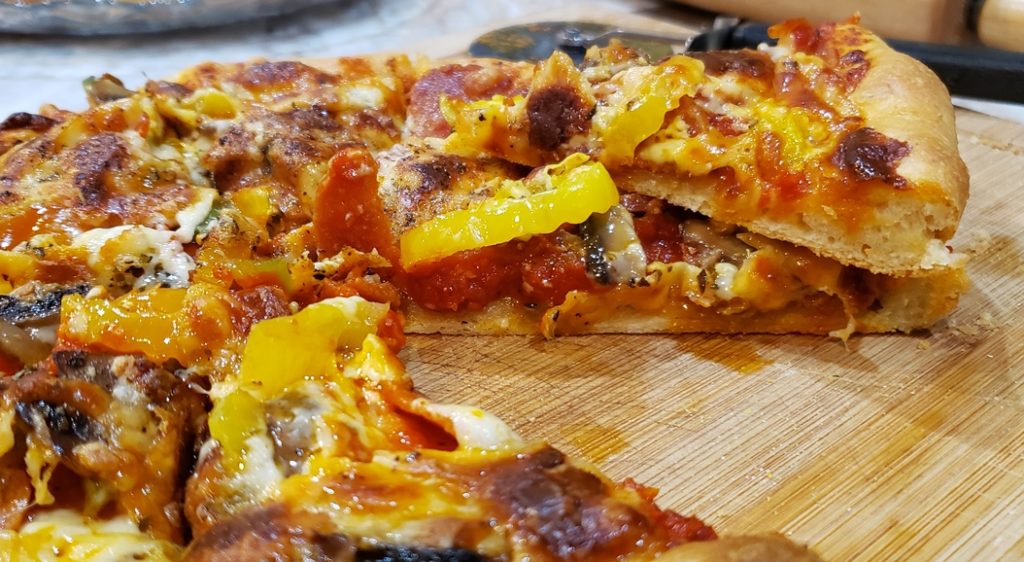 Method: (watch video here)
Add butter to water and simmer at very low heat to melt the butter. Allow the mixture to drop to body temperature.
Whisk sugar and yeast in butter water to activate the starter. Cover for about 15 minutes until mixture foams.
Shift the bread flour
Empty starter in the bowl of a mixer fitted with a hook attachment, salt and start mixing in medium speed.
Gradually add the flours and mix until dough is soft but not very sticky.
Transfer dough to a floured kitchen bench and knead to a ball.
Place In a bowl, cover, keep in a warm place and allow to rise double in size. (1-2 hours)
Divide the dough to equal parts of about 200grms each (7oz) shape them to rolls and let rest for another 30 minutes covered. (This is the size of a basic individual pan pizza of 9in pans)
Grease the pizza pans with olive oil.
Stretch each dough portion with your hands in the pan, spread some tomato sauce from the center to about an inch before the edge of the pizza.
Place the topping of your preference and top them with grated cheese.
Drizzle with a little olive oil, and season to taste.
Bake in a preheated oven at 220c-240c (420-440f) for about 12-15 minutes.
Pizza sauce
Ingredients:
Crusted tomatoes 500grms (17,6oz)
Sundried tomatoes in oil 1/2cups
Tomato paste 1/3cups
Olive oil 2tbsp
Onion 1 chopped
Garlic cloves 3 chopped
White wine 1/2cups
Thyme 1tsp
Oregano 1tsp
Paprika sweet 1tbsp
Basil fresh 6-8 leaves
Sugar 1tbsp
Salt and black pepper to taste
Method
In a heavy bottom pot over medium heat, sauté onions and garlic with olive oil.
Add herbs and spice and cook together for a minute.
Add the wine and allow evaporating
Add the crushed tomatoes, sun dried tomatoes the tomato paste and sugar. Mix well and simmer for about 45 minutes.
Let cool down and blend well.
Season to taste, keep in a jar, refrigerate and use as need it.
Cheese mix
Cheese is personal and according to taste, any cheese can be used but more often the preferred mix is hard mozzarella 50%, white Gouda 30% and Edam 20%. Make sure you mix well and always keep refrigerated.
Recipe and photos: chef Tony Kavalieros
Watch video here