Yes exactly!! Makaronada Imam… when you have more than one person to satisfy in the family, each with a different taste, you have to be innovative and creative. So when one wants Imam, but the other one wants something with pasta, the third not so much onions, garlic and not fried so not much oil but keep it vegetarian as well because we had enough meat… this is what I come up with, and believe me… it's not bad at all!!!
You need:
3 eggplants
2 medium size white onions
3 cloves garlic
1 cup olive oil
2 cans whole tomatoes in tomato sauce
Fresh parsley
Fresh dill or mint
Salt and pepper
Your choice of pasta (I used linguini)
Method:
Cut eggplants to bite size pieces and let them soak in 3 liters water with 3 tbsp salt.
Slice onions to quarter size pieces, crush and mince garlic cloves
Chop can tomatoes to small pieces
Heat a heavy bottom pot with ½ of the olive oil on medium heat.
Add onions and garlic and sauté them till they sweat (don't burn)
Strain eggplants and add to the pot. Stir them in with the onions and garlic.
Cover the pot and cook for 10 minutes. Remove the lid and stir again.
Add the tomatoes with the sauce mix well and bring to a simmer.
Cover with the lid again and cook for another 15 minutes.
Open the pot, chop parsley, dill and add to the pot. Add a little water to make sure the food has enough juice. Add the other half of the oil, taste for salt and pepper and season.
Simmer with the lid removed until eggplant is cooked completely and sauce is thickened.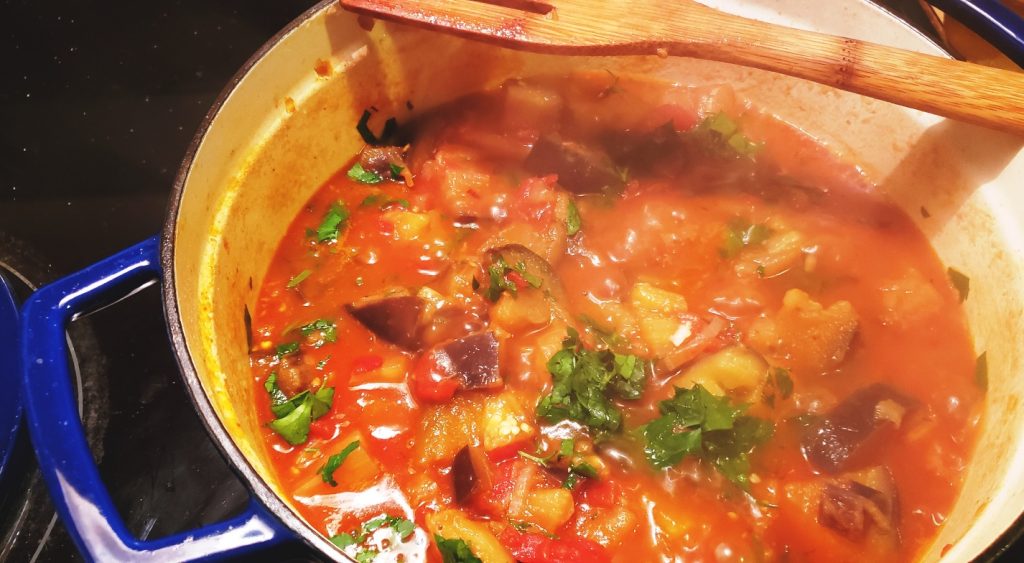 Boil your pasta and serve. You can top it with your favorite grated cheese.
Recipe and photos by Chef Tony Kavalieros