I come across many recipes named "Greek" just from using feta, but I tried this one from Sara Yoo and really brings out some Greek taste… nice one Sara!!!
by Sara Yoo
INGREDIENTS
18 whole chicken wings
1/2 cup plain Greek yogurt
1/2 cup chopped peeled cucumber
1/2 cup crumbled Greek Feta cheese
2 tablespoons snipped fresh dill
1 garlic clove, peeled
Salt, to taste
2 tablespoons Greek olive oil
1 fresh lemon juice to taste
1 teaspoon freshly ground black pepper
1 tablespoon flour (plus more, if necessary), for dredging
1 tablespoon cornstarch (plus more, if necessary), for dredging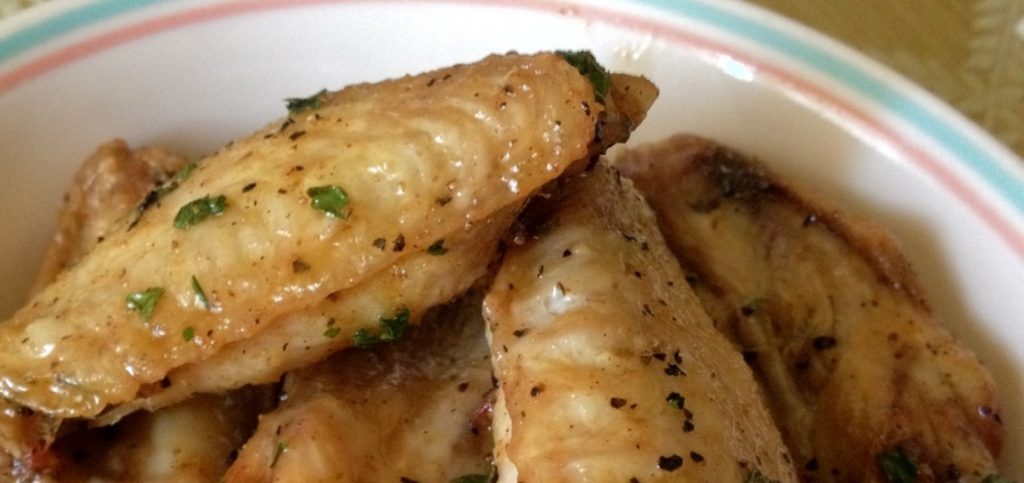 DIRECTIONS
Remove the tips of the wings and discard or save for making stock. Using a kitchen knife separate the wings at the joint. Rinse wing under cold water and pat dry with paper towels. Lay wings in a single layer on a wax paper-lined baking sheet and place in the refrigerator (uncovered) for one hour.
In a blender, combine yogurt, cucumber, feta cheese, dill, and garlic. Process until smooth. Season to taste with salt, and pour into a small serving bowl. Refrigerate until ready to serve.
In a large, wide bowl, whisk together lemon juice, olive oil, black pepper, and salt (to taste).
Heat vegetable oil in a Dutch oven over medium heat. Remove wings from refrigerator and season on all sides with salt and pepper. Place about a tablespoon each of flour and cornstarch in a large clean plastic bag, seal, and shake gently to combine. Working in batches, drop a few chicken wings in the bag, and toss to coat with the flour mixture. Shake off the excess before dropping each wing into the hot oil, and fry until golden brown, turning occasionally, about five to seven minutes. Replenish the flour mixture in the bag as needed.
Transfer fried wings to a wire rack placed over a rimmed baking sheet. When wings are cooled slightly but still warm, toss them in the lemon vinaigrette and pile them on a serving platter. Serve alongside the yogurt sauce.
Source: popsugar.com