Ingredients:
Dry beef soutzouk 1
Italian spicy sausages 4
Onion 1
Garlic 1 clove
Olive oil 2tbsp
Tomato paste 2tbsp
Salad topping:
Tomatoes 3 medium size diced
Onion 1 chopped
Parsley chopped 1cups
(mix together in a bowl and keep until needed)
Method: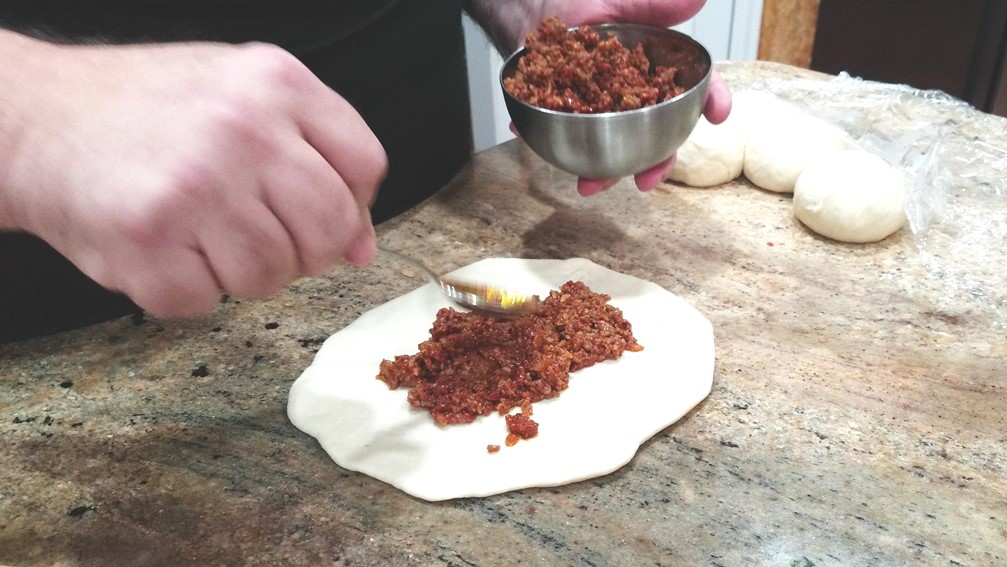 Make the filling:
Empty the meat of the Italian sausages
Take off the casing of the soutzouk, cut to mall pieces and mince in a food processor.
Chop the onions and the garlic clove.
Saute onions and garlic in some hot olive oil
Add the meat from soutzouk sausage and cook for 5 minutes
Add the meat from Italian sausages, mix well (I use a wire whisk for that) and cook for another 5 minutes.
Dilute the tomato paste in a cup of hot water and add to the meats. Mix well and simmer for about 10 minutes. It must be cooked and most of the liquid evaporated. Do not add any salt or spices, soutzouk and Italian sausages are already seasoned. Allow to cool to room temperature.
Making the dough:
Warm the milk with butter until butter is melted completely let the milk cool to body temperature.
Add yeast and sugar, wait 10 minutes for the yeast to activate
Pour the yeast starter in the bowl of your mixer fitted with a hook attachment.
On medium speed add flour gradually and salt until dough comes off clean the sides of the bowl.
Take out on your counter; it should be soft and elastic without been sticky. Knead for a few minutes, divide to portions of about 100-120grms (about 4oz) cover with a kitchen towel and let rest for 30 minutes.
Roll open to side late size disks. Fill with the cooked meat, fold to half-moon shape, press to seal the edges and cut a bit of the end to a smoother edge.
Heat your vegetable oil to medium high and fry the pies for about 2-3 minutes on both sides to a golden color.
Garnish with the salad topping and serve.
Recipe and photos: chef Tony Kavalieros
watch the video here