According to food historians, shakshuka originated in Yemen and more specifically in the Libyan-Tunisian region, while others claim it came from the Ottoman Empire, all though not the recipe we know today, since tomatoes and peppers came to the Mediterranean region with the Spaniard traders in the 1800's.
When immigration to Israel from North African countries was in its prime 1950's immigrants suffered financial difficulties and this hearty and affordable dish, containing eggs, vegetables and bread, became a household favorite. Besides being very approachable, shakshuka is also super easy to make and only required one pan.
Eaten for breakfast, lunch or dinner, the history of shakshuka and how it became an Israeli favorite still remains a mystery.
Served as different variations including all kinds of spiciness levels, vegetables, herbs, cheeses and sausages, shakshuka is undoubtedly a dish you've already encountered.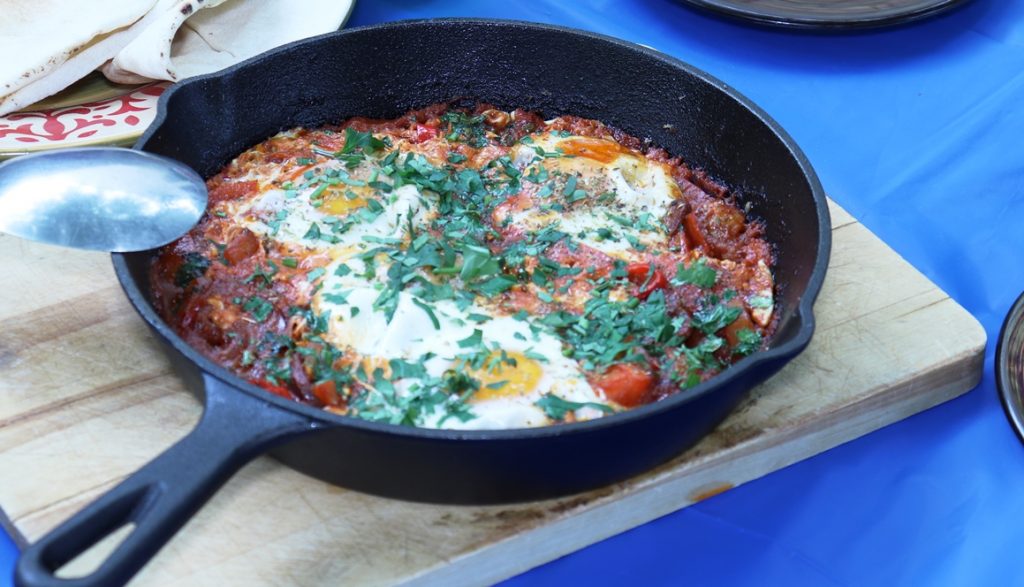 Recipe
The following amounts were used to make the recipe on the video
Ingredients: (for 2 portions)
Olive oil 1/3 cup
Red onion ½ finely chopped
Garlic 2 cloves crushed and chopped
Red chilies 2 deseeded and sliced to rings
Caraway seeds 1tsp
Cumin ½tsp
Sweet paprika 1tsp
Salt (to taste)
Tomatoes 2 medium size cut to small bites
Dry beef sutzuk (dry sausage) 100grms in thin slices
Tomato paste 1tbsp diluted in 1/2cup water
Eggs 4
Fresh parsley (to taste) chopped
Method:
Place an cast iron pan (or a heavy bottom pan) on the fire and pour in it the olive oil
Add the onion and garlic within a minute, stir and allow to cook and soften (do not burn)
Add the chili and stir
Add the spices and salt, let it cook for a couple of minutes
Add the tomatoes and the tomato paste diluted in water.
Add the sausage slices
Cover with a lid and let it simmer for about 5 minutes until all ingredients thicken to a lovely stew.
Add the eggs, salt to taste and cover again until the eggs are poached to your preference
Sprinkle with fresh parsley and serve with pitta bread or fresh hot bread!!!
Recipe and photo: Chef Tony Kavalieros
Watch the video here