Caldo Verde means "Green Stew" made with potatoes, onions garlic and Churizo sausage and for the "Verde" leaf cabbage or kale. I chose to make it into a smooth veloute but you don't need to. In South Africa I bought the leaf cabbage shredded and dried so you could add them in your soup, a very popular soup in my restaurant and easy to make at home. (It is included in my cooking book I've published in 2010 in Greece)
Ingredients:
Churizo 1 (you will find many different Chorizos in the market, your choice)
Butter 1tbs
Potatoes 1kilo (2.2lb)
Onions 2 medium size
Garlic cloves 2-3 (to taste)
Bay leaves 2
Hot chili 1
Water (or veg stock even chicken stock if you prefer) 2liters (2.1quarts)
Olive oil 1/3cup
Lemon juice from 2 lemons
Salt and black pepper (or cayenne pepper)
Leaf cabbage (or kale) 500grms (1lb about)
Method: (see the video here)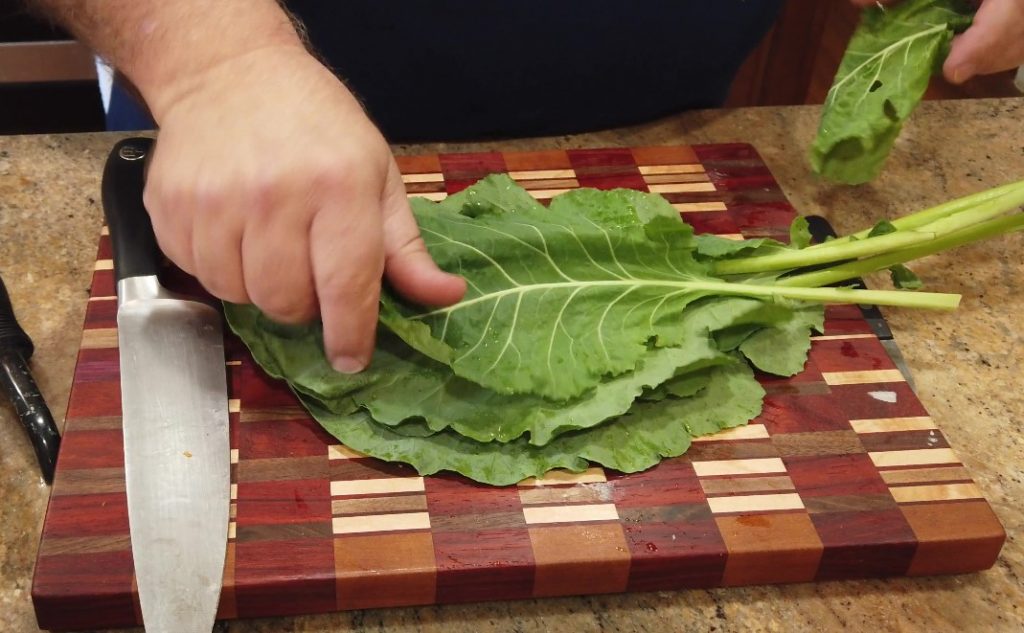 Peel the potatoes and cut them to small chunks. Place them in cold water until needed.
Chop the onions and slice the garlic.
Roll the leaf cabbage or kale to a cigar shape and shred, with your hands squeeze to soften them.
Remove casing from chorizo sausage and dice to small pieces.
In your pot over medium heat sauté the sausage pieces to release the oils and paprika. Remove with a slatted spoon and keep aside.
In the sausage oil sauté the onions and garlic. Add bay leaves and chili.
Add the potatoes and cook for a couple of minutes together.
Add the water, enough to cover about 6cm (2inches) over the ingredients. Bring to a boil.
Reduce the heat to a simmer and cook until potatoes are soft. (about 30 minutes)
Remove bay leaves and chili.
With a hand blender, blend the soup to a smooth veloute. https://amzn.to/3kS2w91
Add olive oil and lemon juice.
Bring back the chorizo.
Add the shredded leaf cabbage and season. Cook for another 5-6 minutes.
Serve with a touch of olive oil on top.
Photos and recipe: chef Tony Kavalieros